Enjoy 45% OFF with Myprotein Referral Code
You can save 45% off for first order  + $10 credit for you by using this my protein referral code when order over $30, apply this in 'refer a friend' blank.
Also, you can get this offer by following this link: https://us.myprotein.com/referrals.list?applyCode=YUGE-R6
Unreliable Coupons
Total: 24
Get 35% OFF on Best Sellers + 50% OFF for more than 500 items
50% off over 200 products | Discount auto applies at basket+ Save 35% off Best Sellers | Use code: BEST      Best Sellers Only | Cannot Be CombinedWith Another Offer | Limited Time Only | While Supplies Last
Tested & Working(save £8.91 for this order)
Enjoy 5% OFF with Nordic Track Sitewide Promotion Code
Get 5% off total order value. Code can be redeemed at checkout.
Tested and working
Save £20 with BrandAlley Refer a friend Code(sitewide voucher)
you'll get £20 off your next order over £80 use this referral code.  Or you can click this referral link https://mention-me.com/m/ol/ra4yv-yuge-zhang and get your refer a friend discount.
Put this code when you check out into the 'Been referred by a friend?'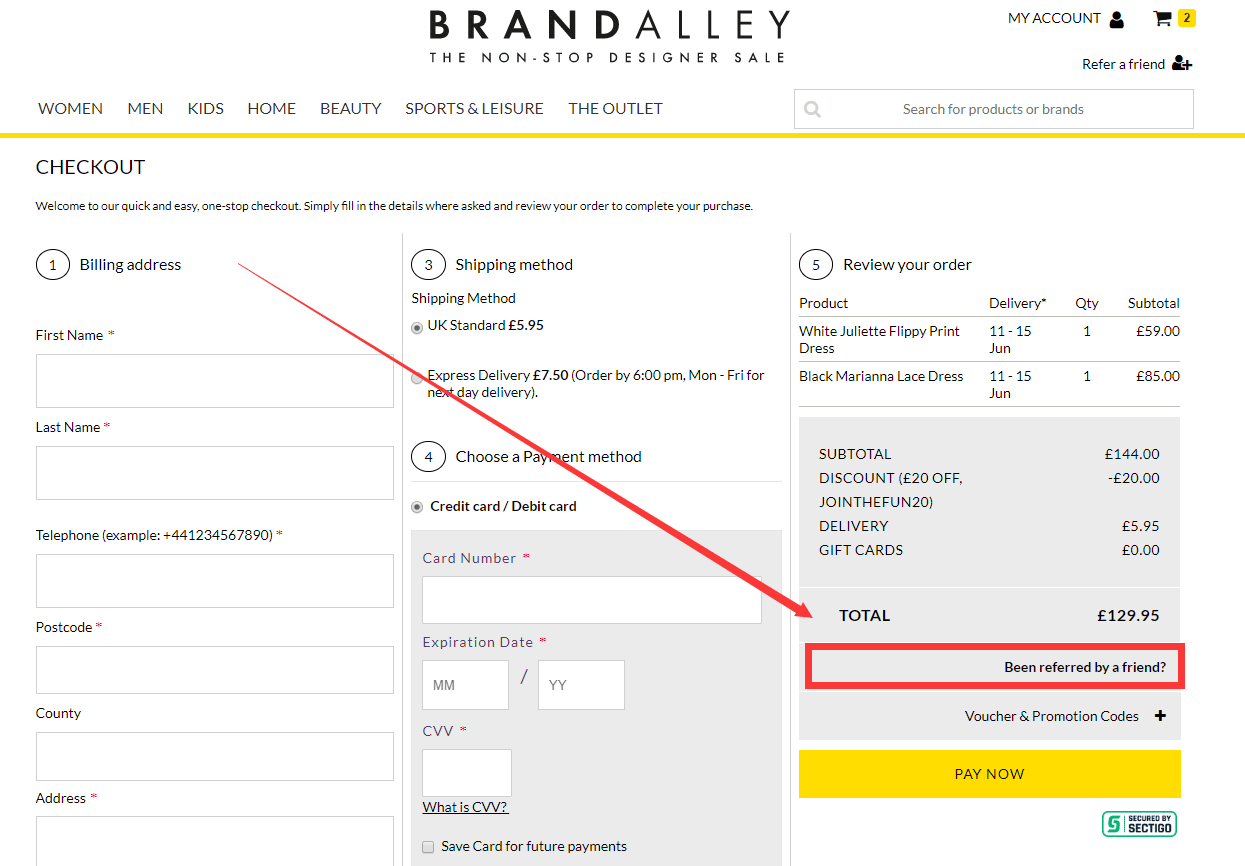 Submit your email and get code.
Take £15 OFF with BrandAlley Voucher Code
Save £15 when order over £60 for your first order.
In brandalley.co.uk Voucher
Tested and Working(save £15 for this order)
Save £10 OFF with BrandAlley Discount Code
Minimum spend:£50.New customers only.
Tested and Working(save £10 for this order )
Enjoy half price OFF with Pure Gym Promo Code
Get 50% OFF with Pure Gym Discount Code + No join Fee. NOT included the Gym in Andover, Aylesbury, Barnstaple, Bath Spring Wharf, Bicester, Bristol Abbey Wood Retail Park, Bromborough, Bromsgrove Retail Park, Burgess Hill, Canterbury Riverside, Chelmsford Meadows, Colchester Retail Park, Crayford, Didcot, Glossop, Gravesend, Hemel Hempstead, Haverhill Retail Park, Kirkcaldy, Leamington Spa, Leytonstone, Lichfield, London Aldgate, London Angel, London Borough, London Bow Wharf, London Camberwell Southampton Way, London Camden, London Canary Wharf, London Clapham, London Crouch End, London Earls Court, London East Sheen, London Farringdon, London Finsbury Park, London Fulham, London Hammersmith Pailais, London Hayes, London Kidbrooke Village, London Marylebone, London Monument, London Oval, London Piccadilly, London Putney, London Victoria, London Wall, London Waterloo, London Whitechapel, Maldon Blackwater, Northampton Weston Favell, Norwich Aylsham Road, Norwich Castle Mall, Norwich Riverside, Plymouth Plympton, Rayleigh, Romford, Stevenage, Swindon Stratton, Tottenham Court Road, Weston Super Mare, Wisbech and any gyms that are not yet open will also be excluded.
Enjoy 10% OFF with OnlineGolf Discount Code (Sitewide Promo)
You can get an extra 10% off on all items in onlinegolf.co.uk, use it when you check out.
Tested & Working(save £15.90 for this order)
Save 5% with Adrenaline promo code
You can save 5% with Adrenaline promo code
Cannot be combined with other vouchers| Limited time only
Adrenaline Tested and Working
Save AUD $40 with Adrenalin
You can save AUD $40 with Adrenalin
Cannot be combined with other vouchers
Tested and Working
Enjoy 10% OFF 6, 9 And 12 Months Pay In Full Memberships
Get 10% OFF 6, 9 and 12 months pay in full memberships at Pure Gym.