Save $10 with Walmart Referral Link – Refer a Friend Offer
Get $10 OFF Walmart coupon by following this referral link. Valid for your first order. Apply to the order over $50.
Give £25 bill credit to you with Hyperoptic Referral Code
A referral is validated when the you order a new 12-month contract, selects 'I was referred' on the order form and provides the email address of your 'Referrer'.
Save £20 for your first order – Refer a friend discount
I just treated myself at ao.com and they gave me an exclusive offer to share with my friends and family. Get £20 off the latest tech and electricals with your first order!
It's really easy to get your voucher. You just need to click the link below, put your email address in and start shopping. Enjoy!
Get 15% OFF with Schuh Referral Code – Schuh refer a friend discount
To get their reward, you need to click on the "Been referred by a friend?" link at the checkout and simply enter this name. If there is another person registered with the same name, you will need to fill in my email address [email protected] to confirm this refer.
In Schuh offer
where to use the Schuh friend referral code?
After adding your favorite shoes to the shopping cart, enter the shopping cart page.;
Click 'Discount/Promo Code/Giftcards' button and choose 'been referred by a friend';
Click the 'show coupon code' button above and copy it;
Put the referral name into the box of friend name;
Fill in your email and get your 15% off discount.
After you enter the referral name you will see this:
Why your Schuh refer a friend not working?
To receive Schuh's referral friend discount, you must meet the following conditions:
The Schuh refer a friend offer only valid for Online. Offer not valid in stores;
only for the first time;
you and your friend must be over the age of 18 to get this offer;
your referral friend discount is valid for 7 days after you being referred;
your referral discount code can't be combined with other discount codes in a single order;
only valid for full-price items purchased from Schuh online
Click here to see more details.
Enjoy 45% OFF with Myprotein Referral Code
You can save 45% off for first order  + $10 credit for you by using this my protein referral code when order over $30, apply this in 'refer a friend' blank.
Also, you can get this offer by following this link: https://us.myprotein.com/referrals.list?applyCode=YUGE-R6
Get 25% OFF for Your Vivobarefoot shoes order(Sitewide Discount) – Referral Name
You can get 25% off on your shoe order with this Barefoot Shoes Referral Name, you just need to put this name when you are checking out into the box of 'Been referred by a friend?', then you can get the discount.
Tested & Working(Save 25% for your order)/Where to use the referral code.
Get $25 in driving credit with this Zipcar referral link
Enjoy a $25 discount with this Zipcar referral link. Valid for first order, get your $25 in driving credit after sign up to Zipcar.
Get £10 off for order over £45 with Illamasqua Referral Code
Valid when you sign up to Illamasqua. Discount auto applies at checkout. Exclusions apply. Or you can get this discount by clicking this Illamasqua Referral Link
Where to use your referral code?
Put it in to the Referral Code box during you sign up the illamasqua.com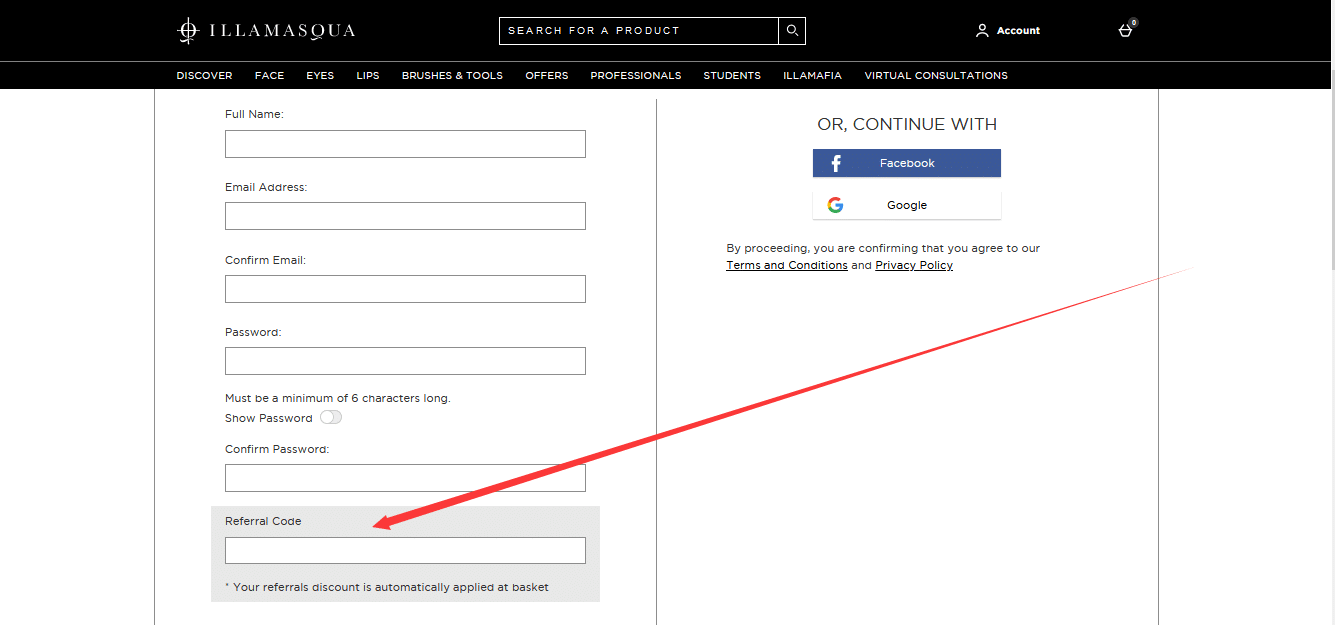 Save 20% with Crew Clothing Referral Code(Sitewide Code)
You can get 20% off with this crew clothing referral code for your first order. Put it into the box of 'BEEN REFERRED BY A FRIEND?' which below the 'PROMOTION CODE', then enter your email and get the discount. You can also get this offer by click this referral link:https://mention-me.com/m/ol/qw6dm-yuge-zhang
Tested & Working(save 20% for the first order)
Wayfair Refer a Couple Discount – Give $50, Get $50
Save $50 when you create a registry within 30 days and spend more then $100.
Offer applies to existing members ("Sponsors") and first-time registrants ("Recipients"). Sponsors may not apply this offer toward the creation of their own registry. Recipient must create a registry within 30 days using the Sponsor's referral link to be eligible. Only eligible invitations will appear listed on the Sponsor's account; reasons a referral invitation may be ineligible include: Recipient is an existing member of Wayfair Registry, or Recipient's email address is incorrect or undeliverable. Offer does not apply to Recipients who have previously created a registry with Wayfair Registry. Sponsor and Recipient will receive $50 Rewards Dollars once guests make total purchases worth $100 or more from the Recipient's registry. Guests must make this purchase with their own valid Wayfair account. Purchases—of any amount—made using the Recipient's or Sponsor's own accounts do not qualify Sponsors and Recipients will be notified via email when their Rewards Dollars are available for use. Rewards Dollars will be rescinded if the qualifying purchase is cancelled. Rewards Dollars can be used across all Wayfair brands (Wayfair, Joss & Main, AllModern, Birch Lane, Wayfair Supply), and cannot be applied to orders containing gift card purchases. Rewards Dollars will expire one year after issue date. Limit five successful referrals per Sponsor per month. Bulk distribution and distribution to strangers is prohibited. Violation of this is grounds for immediate termination of the Sponsor's account and deactivation of their personal referral link. Distribution of referral promo codes and Rewards Dollars is subject to moderation in cases of suspected fraud.
in Wayfair.com Discount
Coupons tagged with "Referral Codes & Links"
What is the referral code/link?
On saving money for your online shopping, referral codes and links works well as discount codes. Get your referral codes in Cashpayless and start saving.
How to get referral code?
If you want a referral code, let your friend send their referral code to you by email, facebook or referral link, it's the most convenient way to get your referral code.
Followings are the ways to get code you can try if you happen to have no suitable friends to recommend you:
Search your store name in the referral code website.
such as sharereferrals.com, uk.refyoo.com, and Cashpayless referral code page. These websites offer the best referral code and all code are free and working.
Search your store's referral code in Facebook and  Reddit
Usually, the people who have a referral code always share their code on the social website and get their discount, so you can find your code and enjoy the discount.
leave your store name and tell us you want a referral code, we will help you.
Email or leave a message for us, our referral code experts will help you find a referral code. Also, we can directly refer you a friend to your shopping store. You just need to provide the store name and your Gmail address, we will mail the referral code or link to you if we get one.
How to use referral code?
It's as easy as 1, 2, 3! Just follow these steps and save your money.
Firstly, check if your shopping store need a referral code. Browse to the checkout page to see if there is a place to fill in a recommendation code. Often the box is named 'Been referred by a friend' or 'Have a referral code?'. Take hush-uk.com as an example, in the cart page, you can find 'Been referred by a friend?' box.
Secondly, find your referral code in Cashpayless. Search your referral code in Cashpayless and copy it.
Thirdly, put your code into the box of 'Been referred by a friend?'. After you use the code, you need to sign up and you will receive a unique promo code. Sometimes, after you use the referral code or click the referral link, you will get your promo code which depends on your shopping stores.
Finally, enjoy the great discount with your promo code.
Why we offer the referral code?
Usually, the merchants will provide their coupons to improve purchase rate, and they will offer the refer a friend program to increase awareness and purchase rate. When you refer your friend to the online stores both of you can enjoy a great discount, but not every time you have a friend to refer or been referred, now you can get your referral code here in Cashpayless and start saving without waiting. Search your store name in the search bar, the referral code or link will show you if we have one.
Unreliable Coupons
Total: 7
15% OFF Asos discount with this Referral Link – Asos new friend code
How does 15% off your first order at ASOS sound? Use the link below and once you've shopped, I'll get 15% off too. Win-win!
In asos.com offer
Tested and working, just put your email into the box  and get the 15% off asos coupon.
Get £10 off With Instantprint Referral Code
Save £10 for your first order over £40 by using this Instantprint referral code. Or directly click this referral link. Use the referral code before you check out, click 'Been referred by a friend?' above the voucher box and sign up, you will receive an email with you exclusive £10 off voucher.
Tested & Working (get a £10 off voucher)
Get £80 OFF Discount with this Referral name and GM number
Been referred to Club Med Discount. Save £80 with this Club Med referral name and GM number when you sign up to Club Med. Valid for your first order.
In clubmed.co.uk Discount.
Get $5 OFF eGlobal Central Voucher Code with Referral Link/Code – Refer a Friend Coupon
Use this coupon at checkout page.This offer is valid till Dec 31, 2020. with min purchase £200
Redeem the referral link when your order over £100
In eglobalcentral.com offer
Save Up to $100 with Blue Nile Refer a Friend Program
Save up $100 when you refer Blue Nile to your friend or referred by your friends through email.
$20 on your order of $100 or more
$50 on your order of $500 or more
$100 on your order of $1000 or more, see more details in bluenile.com
Save $5 On Any Order (Sitewide Code)
Save $5 on any purchase at Mack Weldon with this discount code.
Tested and Working (save $5 on this order)
Get $15 OFF for your first Order at Wonderbly With Referral Code
You can enjoy $15 off for your first order by joining the Wonderbly refer a friend program. Just add this referral code into the box 'Been referred by a friend?' and you can get the $15 discount after submit your email. You can get the referral code by clicking the button of Show Coupon Code (Valid any time). Or you can get your referral code by following this referral link.
Tested & Working(Save $15 with this offer)